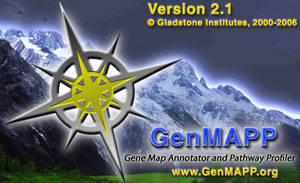 Compatibility: Vista, XP, Windows Server, 2000, NT, 98, and Intel-based Macs
Available languages: English
License: Open Source Apache Software License
The next version of GenMAPP, GenMAPP-CS, will be available as a beta version in August 2011.
More information about GenMAPP-CS here.
For over-representation analysis, we recommend the GO-Elite program, which works with GO terms and WikiPathways. We also recommend PathVisio for pathway visualization. PathVisio is cross-platform compatible and supports a wide range of species.